Shortcut-S: An Intense 319-Key Keyboard Designed Specifically for Photoshop
http://petapixel.com/2014/02/09/shortcut-s-intense-319-key-keyboard-designed-specifically-photoshop/
Where Photoshop and other advanced image editing software is concerned, the standard keyboard is woefully outmatched. To get around this, Adobe and other developers use shortcuts (that aren't always all that short), but one designer decided that instead of going down to the keyboard's level, he would bring the keyboard up to his.
Thus was born the Shortcut-S: a massive 319-key keyboard that is designed specifically so that you never have to use more than one finger when selecting an editing function ever again.
Here's the Shortcut-S Kickstarter video to explain what this massive keyboard is about:
As you can see, Shortcut-S creator Sorin Neica is working on the simple premise that a keyboard designed with high end image editing in mind is much better than a standard keyboard, or even a standard keyboard combined with other interfaces that are post-processing specific.
For now they've developed the graphic overlay of the keyboard specifically for Photoshop, but other overlays are in development. Programs like Corel Draw, Adobe Premiere, Adobe Illustrator, Final Cut, Lightroom and more are all going to get the Shortcut-S treatment.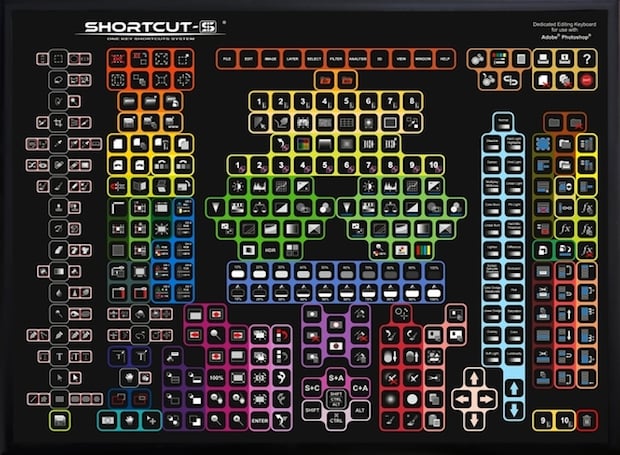 The main selling point of the Shortcut-S is its one-finger operation. Your hand can stay on the mouse at all times because — using the 299 pre-determined keys in combination with the 20 customizable ones — you can select any function you'd like in just one touch.
Shortcuts that were once four keys long are a button click away, making this a useful tool for advanced users who would like to speed up their workflow, as well as beginners who now may never have to memorize a shortcut again.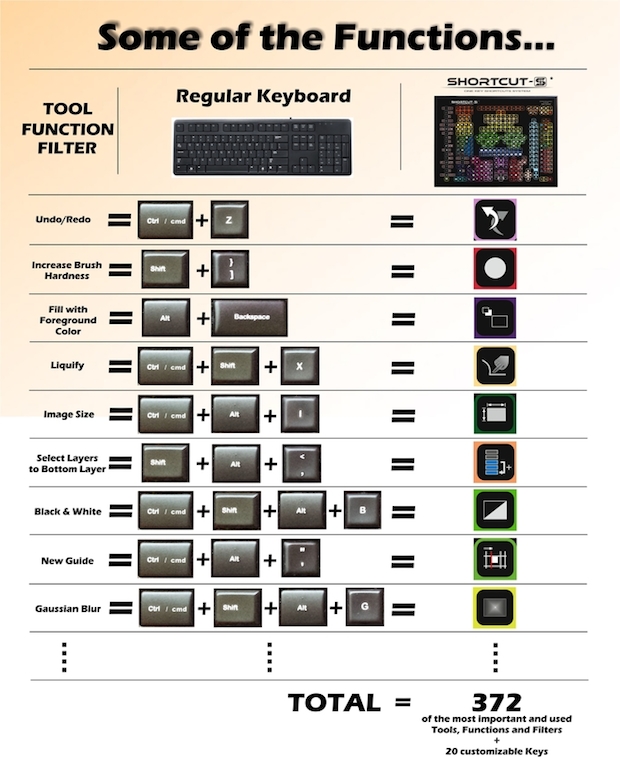 Unfortunately, the Shortcut-S has a huge goal to reach before it can become a reality — plus a lot of competition from other customizable (albeit less comprehensive) options. In all Neica needs to raise just over $185K, less than 7 grand of which he has managed to pull in as of this writing.
Still, with 49 days to go on the clock, there's plenty of time to reach for the stars. So if you want to learn more or help Neica reach his goal by buying one of your own, head over to the Kickstarter and get ready to plunk down $90 (plus $28 shipping) or $100 (plus $28 shipping) if all the early bird specials are gone by the time you read this.
You can also drop $9,000 and buy your way all the way to Brasov, Transylvania, Romania where Neica will personally teach you how to use your Shortcut-S keyboard less than 20 miles away from Dracula's castle. Yeah… you know you want Option C…
...
You must Sign up as a member of Effecthub to view the content.

>>Back to Photoshop group
Latest Posts
Sponsor
They are waiting for your help
Share